WHAT HAVE I DONE?
1) Grant holder of week-end collaboration in the Service of Meteorology of the Department of Journals of the Catalan regional television (Televisió de Catalunya SA).
Beginning: 02/10/1999 / Ending: 15/03/2000.
2) Grant holder of third cycle of the University of Barcelona associated to the SPHERE project (Systematic, Palaeoflood and Historical data for the improvEment of flood Risk Estimation / EVG1-CT-1999-00010) in the Department of Astronomy and Meteorology of the Faculty of Physics. Reference: Convocation 2002-2 C.P.I-41.
Beginning: 01/04/2002 / Ending: 31/03/2003.
3) Predoctoral grant holder of Investigating Staff Formation (FPI) of the Spanish Ministery of Science and Technology assigned to RAMSHES project (Regional Atmospheric Models in the Simulation of Hydric ExtremeS / REN2002-04584). Reference: BES-2003-0186.
Beginning: 01/05/2003 / Ending: 30/04/2007.
4) Specialised technician in the SEVERUS CICYT project (CGL2006-13372)
Beginning: 07/05/2007 / Ending: 02/09/2007.
On 16th June 2004 I defensed my bachelor on Meteorology with the study Técnicas de completado de series mensuales y aplicación al estudio de la influencia de la NAO en la distribución de la precipitación en España (Techniques of fill-in gaps for monthly series and application to the study of the NAO influence on the precipitation distribution in Spain) within the doctorate programme on Astronomy & Meteorology of the University of Barcelona (2002-2004 biennium). Download it (in Spanish).
On 14th May 2007 I obtained the TEACHING CERTIFICATE (CAP) by the Institute of Educational Sciences of the University of Barcelona. Download the report (in Catalan).
On 1st December 2008 I defensed my thesis with the title Evolución de los extremos hídricos en Catalunya durante los últimos 500 años y su modelización regional (Evolution of hydric extremes in Catalunya during the last 500 years and its regional modlling) wiht a CUM LAUDE EXCELLENT by UNANIMITY qualification. Download Thesis Dissertation (in Spanish). Abstract in English.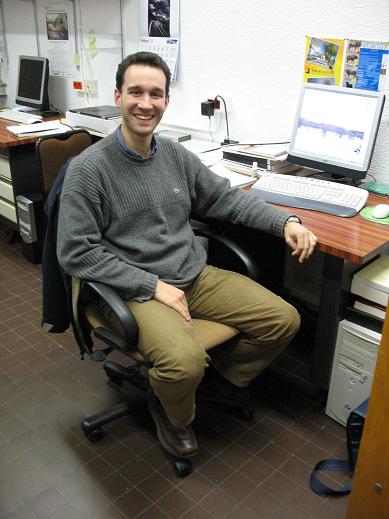 ---